"Think what a better world it would be if we all, the whole world, had cookies and milk about three o'clock every afternoon and then lay down on our blankets for a nap."
~Robert Folghum
As I'll explain below, my whole life is sort of off kilter right now due to taking a nap. So......we're doing a quick blog and linking up with Friday Letters!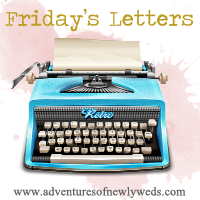 Dear job: I did not appreciate you making me wake up yesterday morning at 3:30 am to fly back home. And then making me be at the office in a feeble attempt to be productive. I did, however, enjoy the fact that I was able to leave the office at 3:00 in the afternoon to take a nap before the Thunder game.
Dear Thunder:
The aforementioned nap may have lasted a bit longer than I intended....like from 4 in the afternoon until 1:45 this morning. This may have caused me to miss your game. Sorry about that one. The outcome was not what Oklahoma would have liked, but cheers to a great season. And to learning not to foul with 5 seconds left on the shot clock for no apparent reason in game 4. Just saying.
Dear Kiddo: Please don't be mad at my failure to text you back last night. As you can see, I clearly needed a little sleep. You are still my favorite.
Dear weekend:
Hallelujah you're almost here! I'm feeling some spin classes, some treadmill work, some pool time with
College Roomie
, and hopefully meeting up with my cousin and his girlfriend who are going to be in town!
Dear Mom:
Thank you for making me spit water all over my computer laughing at your comment on
my blog yesterday
.
"

For awhile, I had asked Dad to work on the windchime because some of the pieces had come off or become twisted, etc. He had not done it yet. However, after reading this blog, he went to the tree and the shop, and now the windchime is repaired! Could you PLEASE do a blog tomorrow about your sweet memories of when you, Denton, and Dad would change the oil in my car?"
Dear Loud Oklahoma Girl: Two weeks from today and I will be in Tulsa for your wedding! Two weeks. Your wedding. HOLLA! Pedicures, mimosas, a candy bar, and the Hard Rock. Cannot wait. Oh yea, for the wedding part too!
Dear Casey Donahew Band: I know that you came out with your album "Double Wide Dream" like forever ago, but can I just tell you that it's still one of my favorites. I've had it on repeat on my iTunes for the last week and it just makes me happy. Good work, boys.
Dear Sister-in-Law:
Thank you for making my day with the recent
Little Cowboy
photos on facebook. Could this child be any cuter? No. This is why it IS necessary for Aunt Tiff to send him things like slingshots from Costa Rica and extra large packs of fun dip in the mail. You're welcome.
Top L: Helping mom.
Top R: I assume this is an 8 Seconds pose.
Bottom L: Watching the rodeo.
Bottm R: Surfing at the pool.